About PhastPhileRename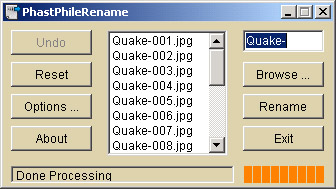 This is a small, lightweight application to quickly rename all of the files in a directory with a new name. This is most useful for web developers, but it also has numerous other types of users.
How To Use PhastPhileRename
Using this program couldn't be simplier. When it loads, start by entering a filename that you want all the new files to have as their prefix. Then click the Browse button, and locate the folder to want to process. And finally, all you have left to do is click the Rename button! That's all there is to it.
Installation
Installing PhastPhileRename couldn't be easier. Just download the zip file, and run the enclosed EXE file. The installation package will guide you through the rest.
Minimum System Requirements
Downloads